The sun came out today. For about 30 minutes. As soon as it did I ran for my camera to get some pictures of the things I got at the auction. I had a few shots but wasn't happy with them so I've been waiting for the sun to appear again.
Everyone guessed the first two pretty easily. The pitcher and the platter were actually together in one lot that hubby started bidding on. I was a bit nervous because it wasn't something we had previewed.
While they will both be up for sale soon, they are not something I mind hanging around for awhile.
Luckily there were no chips or cracks anywhere on them. They are both really gorgeous pieces with a lot of detail. I just love old ironstone pieces.
I know the last one was not something anyone would guess. I spotted it in the preview the day before the auction. I love the colors in it. The needlework is really well done.
I loved the frame and the cute little feet it has on it. Sorry about the glare that I was catching off the glass. Can you tell now what it is?
It's an old fire screen. Oh I love it. The little feet can be turned flat with the frame so really you could hang it on the wall if you wanted to.
Here's a little word of warning about auctions. If you are with someone else make sure both of you have your eyes up on the auctioneer. Hubby was doing the bidding on this piece, I was not having luck. We had a price set that we wouldn't go over. I was looking to my left answering hubby and nodding to him. Only the auctioneer was taking my nods to mean bids. So we were surprised to realize we had won. A bit higher then we wanted to but that's just part of the learning process. Keep your eye on the man with the gavel!
Hope everyone is staying warm and dry.
I'll be linking up here: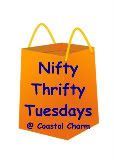 see ya,